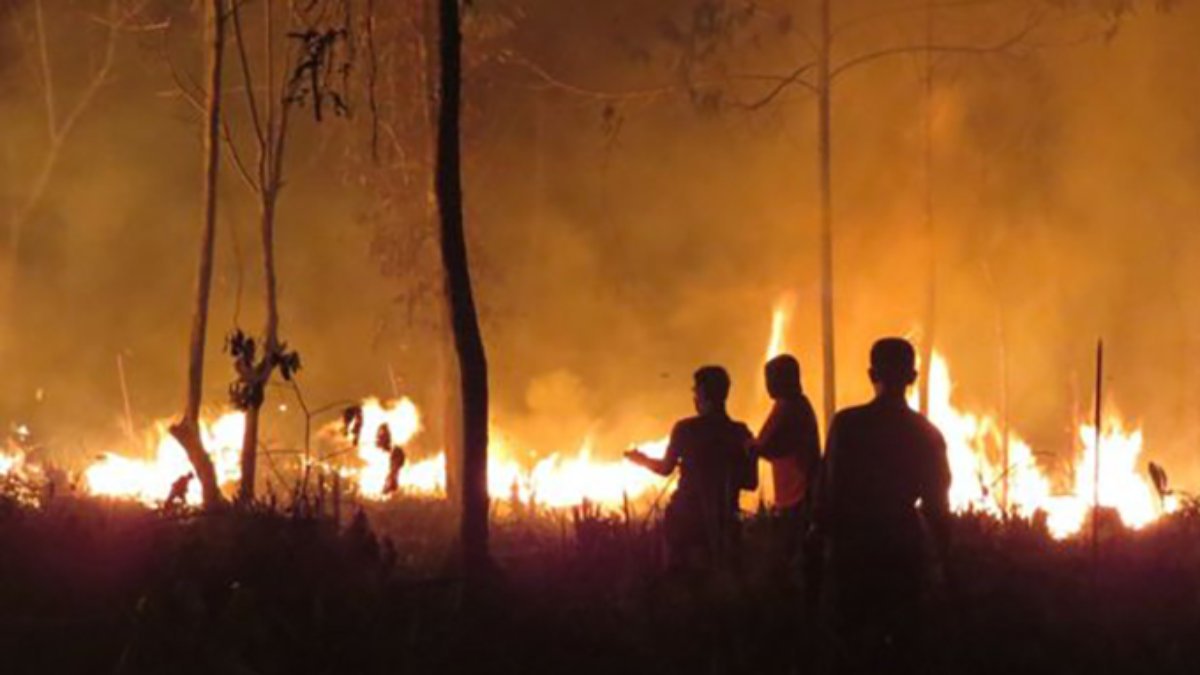 By Alice Hutchins
Jurnasyanto Sukarno, a Greenpeace photographer currently in the depths of Palangkaraya, Kalimantan in Indonesia recently reported on his harrowing journey to the city's 'Oxygen House', where the local people go to dispel the effects of the fire season. The severity of the toxic fumes pouring over the city has affected people in all surrounding areas, especially those with young children, and prompted the local hospital to provide fresh oxygen and steam masks to try to clear the pollutants from people's lungs. The harmful gas over Kalimantan is partly due to naturally occurring conditions like dry foliage and hot weather, and partly due to illegal agricultural fires for industrial scale fire-fallow cultivation in Indonesia.
Fire-fallow is a farming method that involves the cutting and burning of plants in a forest or woodland to create fields or room for new palm oil plantations. Palm oil and pulpwood production, is dangerous to the orangutan population of Borneo, as discussed in our blog: Orangutan in my room: The politics of Palm Oil' but is now causing serious health concerns for the people nearby.
After visiting the oxygen hospital and following the story of a baby named Rafa whose small lungs struggled to cope with the impact of the fumes (full story can be read here) Sukarno stated 'I have witnessed firsthand how desperate families and communities have been trying to deal with these fires, and more shockingly, how they are left scrambling to find the masks and protection they need for themselves and their children.' – https://www.greenpeace.org/international/story/24770/inside-indonesias-oxygen-house-where-children-come-for-fresh-air/
However, according to recent studies by the World Resources Institute, deforestation in Indonesia is at it's lowest for the second year in a row. The research suggests that Indonesia's government has put into place key changes in their disaster policies to prevent forest fires of a dangerous magnitude occurring. Also, 'In September of 2018, Indonesian President Joko Widodo implemented a moratorium on new palm oil development and mandated the review of all existing licenses. The goal with this ban was to minimize the further expansion of palm plantations, many of which are already encroaching on critical forest habitats.' – https://www.wri.org/blog/2019/07/will-start-forest-fires-season-hamper-indonesia-s-progress-reducing-deforestation
The reduction of large-scale palm oil plantations has also been supported by several of the world's major food organisations, such as the Ferrero corporation *including Kinder, Nutella and Ferrero Rocher, who have been part of the Roundtable on Sustainable Palm Oil since 2005, and vowed to 'achieve 100% traceable segregated, RSPO-certified palm oil by the end of 2014.' – https://www.ferrero.com/group-news/Ferrero-Palm-Oil-Charter
Other major brands such as Nestle and Kellogs have yet to sign up to ensure sustainable palm oil, but there has been a marked difference in the amount of palm oil-related deforestation in the past two years. This suggests that the oxygen problem in Indonesia may become a thing of the past and that there may be cleaner air for all, in the not too distant future.